After many years in the Spanish and Portuguese markets, COPILOT System has widely demonstrated the virtues of its projects in facilities with state-of-the-art environmental management systems.
We are proud to continue serving our old clients to carry out their new projects with new technologies we have been incorporating into our proposal.
Collaboration with construction companies and the design of products for highly demanding experimentation centers benefit COPILOT System with a unique experience that it provides to its customers.
The desire for optimization and sustainability leads the company to keep on working with important agents in the environmental innovation sector to incorporate new more sustainable systems, at lower energy and economic costs, as well as maintenance, with which better results in the farm are undoubtedly obtained.
COPILOT System is presented as the best advisor for your business when carrying out your livestock project.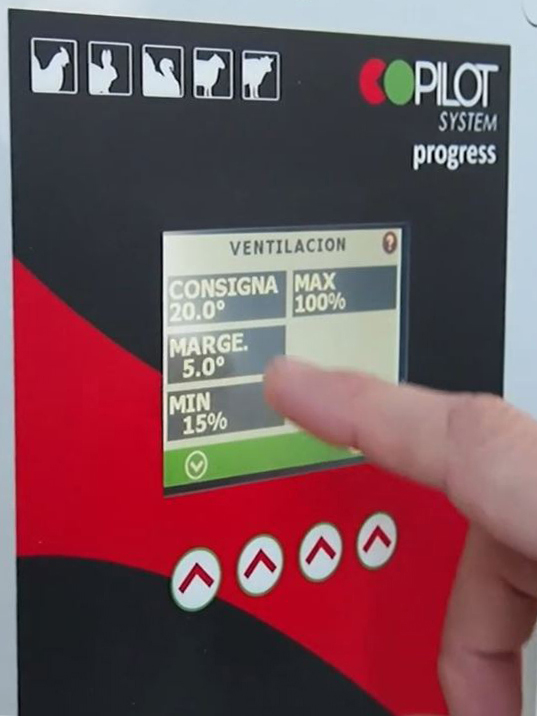 COPILOT System offers complete solutions for environmental management, providing you with a complete wide range of innovative systems to equip modern poultry farms.
ENGAGEMENT WITH THE CLIENT
COPILOT System services include all the stages of the work, from the beginning of the project to the start-up of the work and its subsequent maintenance.
At COPILOT System we study each farm individually, streamlining processes, incorporating new products, new technologies, energy efficiency criteria and farm safety.
QUALITY PRICE PROFITABILITY
COPILOT System always seeks the best compromise between investment costs, operating costs and the useful life of the equipment.
MORE THAN 10 YEARS OF EXPERIENCE
The COPILOT System technical department is responsible for the design and dimensioning of the project thanks to the experience acquired for more than 10 years.
The climatic conditions of each area and the local peculiarities of the site.
The environmental needs of the lodgings according to the species, age and physiological state of the birds.
EXCELLENCE IN INSTALLATION & AFTER SALES
At COPILOT System, we have a wide network of installers to guarantee an agile and quality service.
COPILOT System has become the safest and most reliable option for carrying out your project, guaranteeing optimum production results.
At COPILOT System we like to always walk hand in hand with our clients, advising before, during and after the completion of the work.