The experience of more than 20 years in the manufacture of electric stoves, have developed a range that improves their performance and safety, providing natural heat with no flame, no emission or production of moisture, an excellent reflection of heat, resistance to extreme weather conditions, robustness and ease of storage.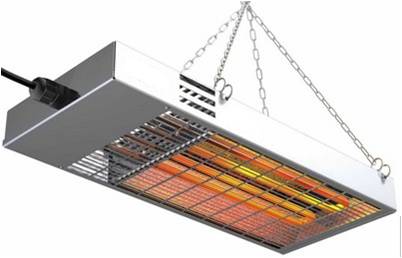 Composed of stainless steel housing and aluminium baffle special electrical equipment, no stray reflection areas.
One or more shielded heating, built in stainless steel, particularly refractory.
Rugged protective grille
PROVIDED WITH:
Support for subject, based on chain and "S's" fixation.
5 m cable with standard plug 2 x 10 A + T
Optionally, it is possible to equip each display with individual thermostat (model ICT).
The range of COPILOT SOL IR heaters has a wide selection of models perfectly suited to your farm.
| | | | |
| --- | --- | --- | --- |
| Model | Power (W.) |  N Resistence | Dimensions (mm.) |
| COPILOT SOL IR 400 | 420 | 1 x 400 | 425 x 170 x 45 |
| COPILOT SOL IR 600 | 630 | 1 x 600 | 550 x 170 x 45 |
| COPILOT SOL IR 800 | 840 | 1 x 800 | 675 x 170 x 45 |
| COPILOT SOL IR 1200 | 1260 | 2 x 600 | 550 x 170 x 45 |
| COPILOT SOL IR 1600 | 1680 | 2 x 800 | 675 x 170 x 45 |
| COPILOT SOL TIC 800 | 840 | 1 x 800 | 775 x 170 x 45 |
| COPILOT SOL TIC 1200 | 1260 | 2 x 600 | 650 x 170 x 45 |
| COPILOT SOL TIC 1600 | 1680 | 2 x 800 | 775 x 170 x 45 |
| COPILOT SOL TIC 1800 | 1890 | 3 x 600 | 680 x 220 x 45 |
| COPILOT SOL TIC 2400 | 2520 | 3 x 800 | 805 x 220 x 45 |