Static evolutionary regulation
Simplified management and comprehensive environmental control for pigs, poultry, rabbits, fatteners, etc.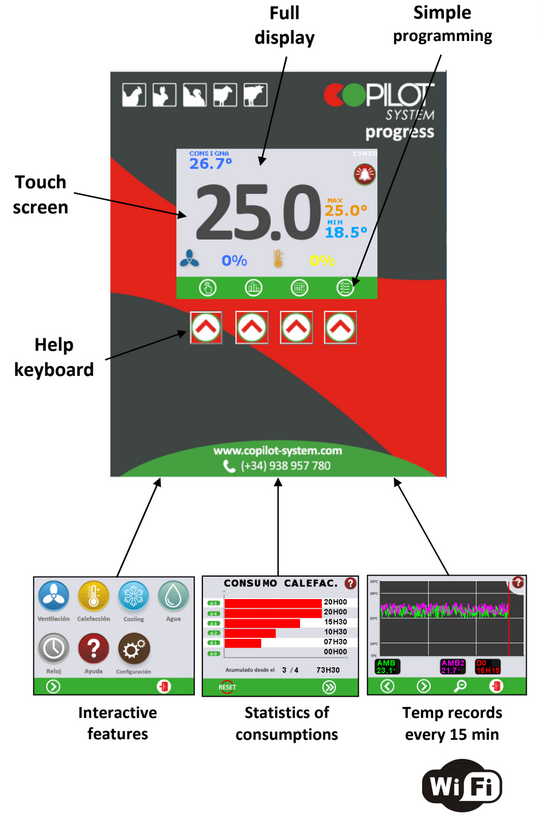 Water-tight PVC box with colour high resolution touch screen.
Help keyboard with 4 keys. 
3 inputs for temperature sensors, 2 inputs for environment ones and 1 input for outdoor one.
2 inputs for hygrometry, located sensor or positioning potentiometer.
3 contacts for alarm, cooling, heating or geared motor.
2 analogical outputs 0-10V for geared motor, heating, power box and ventilation.
Power 230V–50hz. 
Power 24 VCC for motorized valve.
Measures, mm:  190 x 240 x 110
Temperature sensor is delivered with a 10m cable. 
It includes installing and management instructions.
Wi-fi Connection (Optional): Remote access via Internet to information and to change parameters.
Simple programming with icons.
Instant reading of temperatures and ventilation flow.
Minimum ventilation and temperature rule according to age and weight.
Temperature curves.
Automatic adjustment, depending on outside temperature.
Alarms for power supply and temperature. 
Automatic correction of the alarm settings for temperature, depending on outside temperature.
Clearing out function.
Keeps data in case of power failure.
Up to 2 additional cards!