Automaton for heat exchanger
The constant price increases of raw materials in recent years require an ever more rigorous control of costs on farms. The IC10 exchanger allows to benefit from significant energy savings while maintaining the ease of handling.
From now on, thanks to the new COPILOT REC, the recovery IC10 which has been installed on many farms on all continents, allows improved performance, versatility and it is easy to use. A further advantage when you think about minimizing your production costs.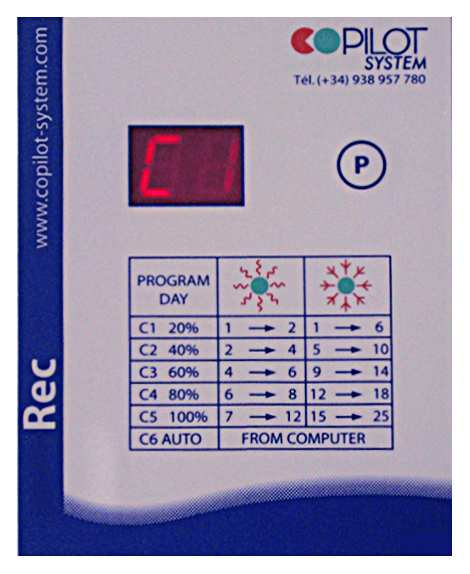 Automatic preheat, depending on the actual temperature of the exchanging plates.
Temperature sensor indicating the performance of the recovery device.
Automatic function to be coordinated with the existing regulation and integrated into the main fan system.
Selection of 5 performance levels by 1 key.
Display of temperature and air inlet and the stage of the cycle.
Indicative table on the front of the PLC (Programmable Logic Controller).
Stop switch for cleaning.
PVC box with IP65.
Manual available in Spanish, French, English and Portuguese.
On request, the COPILOT REC is installed in the exchanger IC10.
Ability to deliver the COPILOT REC pre wired for your exchanger (optional).
Automatic Preheating: With the COPILOT REC, the IC10 exchanger reaches its optimum temperature faster. When it starts, the fresh air intake decreases up to 70% making a faster and more efficient energy recovery.
Higher homogeneity of the environment: In large houses, all the exchangers can be connected from day one. The distances between the ventilation points are shorter and quality of the environment improves.
Stand alone system: Simply connecting to the grid, we can select 5 different function levels.
More versatile: thanks to COPILOT REC it is now possible to install the recovery IC10 in small sized buildings. Weaning or maternity rooms can also benefit from this "low-cost" ventilation concept, as well as facilities for quails or partridges where there is a higher energy expenditure.
Fully integrated: The COPILOT REC is compatible with most environment regulators in the market. There is no need to change your current regulator or to upgrade your program. The integration of  the IC10 exchangers to the traditional ventilation  system  ensures a perfect coordination with the other units of the ventilation system (air intake, exhaust) and optimizes performance with other parameters (humidity, age of  the animals or outside temperature).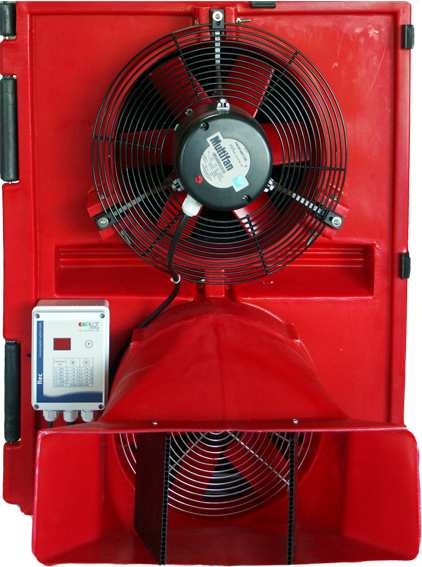 Regulator installed in the recovery system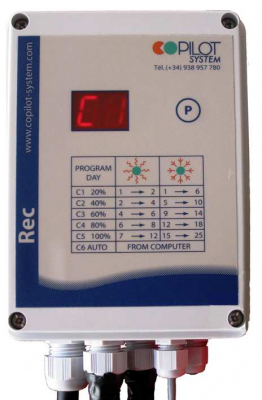 Detail of the COPILOT REC regulator