Regulation of Ventilation and Heating
The simplest control of maternal environment, transition, wean-to-finish, fattening….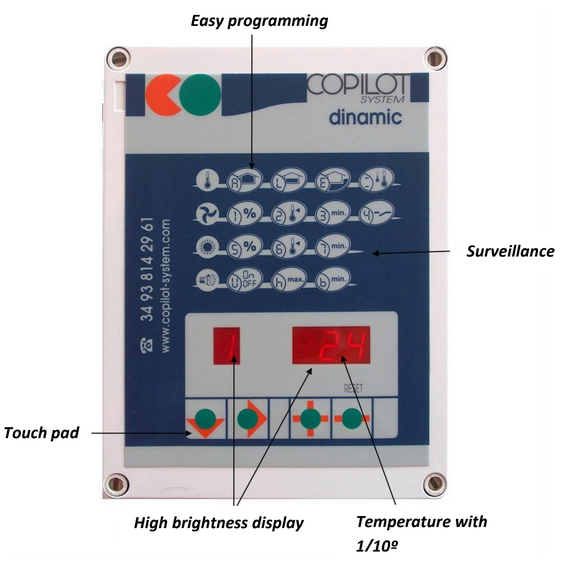 Simple
Reliable
Evolutionary
High brightness display.
Easy programming
Surveillance
Touch pad
Temperature with 1/10º
Environmental probe
External probe
Models: 6A – 9A – 13A – 22A
The most comfortable handling. The regulator COPILOT DYNAMIC controls the dynamic ventilation, and also the entry of air together with the equivalent heating and cooling. It is able to adapt to any kind of farm, with a variety of ventilation systems. The COPILOT DYNAMIC is specially designed for pig facilities, thanks to its functions to control the different variables in the maternity pen. For a easier handling, we have made ​​the COPILOT DYNAMIC with the essential functions only. The use of the icons in the screen answers your queries effectively. Forget the manual!!
Optimized. By connecting with an external temperature probe, COPILOT DYNAMIC allows to decrease in advance the level of ventilation; as a results of this the temperatures are more stable and the cold air draughts disappear. In addition, several COPILOT DYNAMIC regulators share the same external probe.
Reliability. The most advanced protection systems are installed in the COPILOT DYNAMIC series, ensuring exceptional reliability. In addition, each regulator controls the safety of your livestock with the monitoring functions: temperature, power supply  and power consumption (the latter is optional).
Modular with adjusted price. COPILOT DYNAMIC is able to fit your needs, according to the characteristics of your farm, thanks to the different optional cards. Thus, you only pay for what you need and nothing more. To make easier the after sales service for your installer, COPILOT DYNAMIC shares the same components with the other models in the COPILOT CONTROL range.