Innovation in the continuity
The COPILOT CONTROL success principles are kept: COPILOT CONTROL WEBISENSE is still your co-pilot in the farm.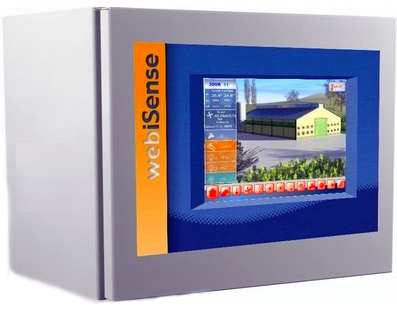 A pleasant Interface: A large high resolution colour touch screen (26,4 cm diagonal) for easy control of all parts of the building.
Affordable parameters in an intuitive way.
Big loading capacity: Available memory during several months, registering environmental conditions and consumption records.
Connectivity: Ethernet and USB ports. 
Web server Technology: Any local net or access to Internet allows to go into WebiSense as if you were in the site.
Reliability and security: Interface of internal help that allows access to all parameters, independent of the touch screen.
All type of ventilation: Static, dynamic or mixed ventilation. Includes a new way of usage in order to manage the buildings with double ventilation system (transversal, longitudinal, etc.).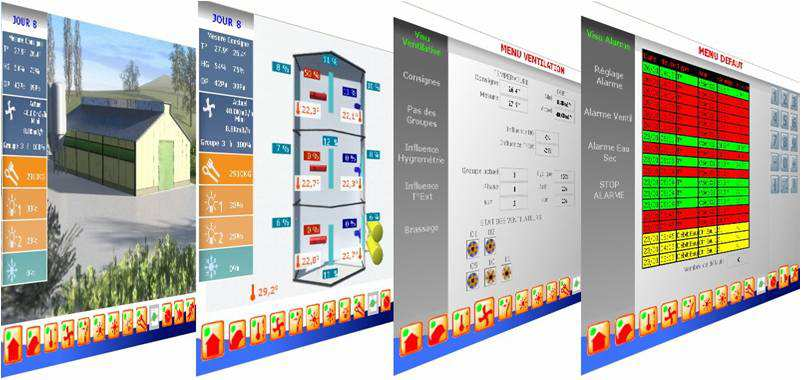 Management of a building up to 3 zones
Up to 9 independent inlets. Control by depression and temperature difference.
Up to 16 ventilation groups On/Off controller: cyclic, progressive, permanent and combined. 
Signal 0-10V in progressive ventilation.
Up to 3 independent heaters On/Off or progressive, cyclic or exterior. 
Up to 3 circulation fans On/Off or progressive.
Serving up to 3 feeding circuits and water dispenser lines. Hourly controlled or by quantity.
4 timers
3 outputs for lighting, On/Off or progressive. Hourly or cyclical programs.
1 output for cooling On/Off or progressive with cycles.
1 output for thermostat On/Off for several usages.
Many control measures
An external temperature sensor to control influences automatically.
Up to 6 inside temperature sensors.
Up to 2 hygrometry sensors to have more accurate control.
Electronic depressiometer.
6 inputs for feed and water counters.
Weather Station.
CO2 and NH3 sensors.