Cooling Evaporative Panel
COPILOT FRESH COOLING is a high quality and state of the art evaporative panels system, capable of cooling even in very harsh conditions.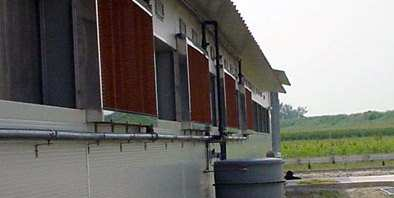 Farms and Greenhouses
Industry
Cooling
Cheap Maintenance
Easy Installation
Composed of cellulose papers: of high quality with alveolar structure, with a wide contact surface between the flowing air and the water that soaks them.
High absorption capacity: The special cellulose paper of the Copilot Cooling is impregnated with odourless resin and treated with a sophisticated process that gives a high water absorption capacity and at the same time has a highly rigid and solid structure.
Excellent performance: The corrugated sheets are crossed in a peculiar angle, symmetrical in teh direction or the air Flow, so excellent cooling performance and low resistance to penetration are got.
Distributor element: The upper distribution panel with honeycomb structure is designed to uniform the amount of water over the entire surface.
Fastening profiles: MFP and MFX profiles are designed to facilitate the installation of the panels in any of their applications. Made of galvanized steel (Publimag MFP) or stainless steel (MFX). There are series of accessories and connection kits for water supply and its gathering.
High quality cellulose paper impregnated with odourless resin.
Distributor element with honeycomb structure.
Availability in different sizes: 1000mm. – 1200mm. – 1500mm. – 1800mm. – 2000mm (standard).
Other measures available under prior consultation.
Cardboard thickness: 100 mm and 150 mm.
Cardboard width: 600 mm.
Boxes with 11 units (100 mm.) and 7 units (150 mm.).
Possibility of panels substitution and easy inspection of water distribution pipes.