The experience of the manufacturer of air heaters has to devise a set durable and economical for all the professionals: The COPILOT SOL NG. This generator can be used to dry new buildings, to dry grain, etc.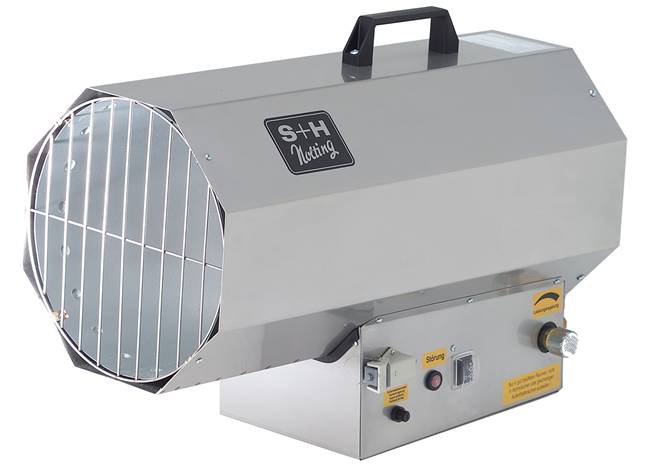 Robust: Stainless steel construction with 2 layers and protective grille.
Easy transport and fitting thanks to its low weight.
Thermoelectric safety system and / or ionization flame control.
Heat control (within the range of the model)
Can be equipped with individual thermostat or connected to control equipment (except NG15)
SUPPLIED  WITH:
Hose and pressure regulator adapted to the bottle of gas.
5 m cable with standard plug 2 x 10 A + T
Optional: there is the possibility of equipping each generator with an individual thermostat and 10 m of cable.
The range of generators NG COPILOT SOL has a variety of models perfectly suited to your needs. The NG model 15 provides manual start with electric-piezo. El resto de modelos tienen arranque automático y pueden conectarse a un termostato o una regulación. The other models have an automatic start and can be connected to a thermostat or regulator.
| | | | | |
| --- | --- | --- | --- | --- |
| Model | NG 35 | NG 50 | NG 75 | NG 100 |
| Thermic Power | 18 – 35kW. | 25 – 50kW. | 35 – 70kW. | 50 – 100kW. |
| Fan flow | 1.100m3/h | 1.100m3/h | 2.200m3/h | 2.800m3/h |
| Gas pressure | 2,5 – 10bar | 2,5 – 10bar | 2,5 – 10bar | 2,5 – 10bar |
| Gas consumption | 1,1 – 2,73Kg/h | 1,95 – 3,91Kg/h | 2,73 – 5,47Kg/h | 3,91 – 7,81Kg/h |
| Type of gas | I3 B/P | I3 B/P | I3 B/P | I3 B/P |
| Electric consumption | 0,48A. | 0,48A. | 0,6A. | 0,92A. |
| Dimensions mm. | 500 x 320 x 460 | 650 x 320 x 460 | 800 x 370 x 520 | 1000 x 370 x 520 |
| Weight | 14kg. | 16kg. | 21kg. | 26kg. |
| Electric Power | 230V / 50Hz. | 230V / 50Hz. | 230V / 50Hz. | 230V / 50Hz. |
| Approval | CE-0085 / AQ 0232 | CE-0085 / AQ 0232 | CE-0085 / AQ 0232 | CE-0085 / AQ 0232 |